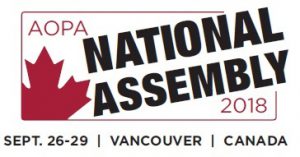 AOPA is currently organizing its 2018 AOPA National Assembly, which is due to take place in beautiful Vancouver, BC Canada on September 26-29, 2018. The Vancouver Convention Center will serve as the event's main venue, with several different hotels being used for overnight accommodations. This event, the oldest and largest of its kind in the United States, will  feature dedicated tracks of the most relevant education for prosthetists, orthotists, technicians, pedorthists and business managers. Participants will also learn from attending MDs, PhDs, Wound Care Specialists, Research Scientists, Attorney's, Business Experts and Top-Notch Practitioners.
Exhibiting at this important event will give you the opportunity to:
Build your customer base and increase sales by meeting with owners who actually make the final decisions on purchases.
Experience face-to-face time with existing customers to answer questions and build new relationships.
Enjoy sponsored networking opportunities, including an opening reception in the exhibit hall.
Take advantage of fun traffic-building opportunities.
Take advantage of education sessions to learn what's happening with regulatory agencies that affect the success of your product.
Increase visibility for your company/organization in a targeted market.
Host a Manufacturer's Workshop and/or Product Preview Theater presentation.
Speak to AOPA reimbursement experts who can answer all your O&P coding, reimbursement and compliance questions.
Hear from top researchers and clinicians to learn what products and support is needed from manufacturers.
Participate in key education programs and plenary sessions.
Be a part of the largest exhibit hall the North America for the orthotic, prosthetics and pedorthic profession
Much more!