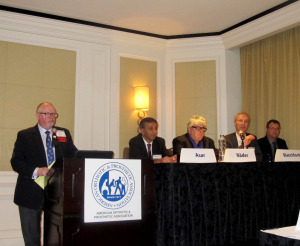 On January 9-11th more than 150 O&P industry leaders participated in the inaugural AOPA Leadership Conference held at the Eau Palm Resort & Spa in Palm Beach, Florida. While the stunning views and great weather outside of the meeting room proved to be quite a temptation, the group remained focused on the task at hand: discussing the ways to ensure the continued success of O&P as an industry despite the current and unforeseen challenges the industry faces.
Attendees spent the first morning of the meeting hearing from dynamic speakers who presented a snapshot of what the industry should expect in the future and the strategies that AOPA has developed to address any challenges head-on. In the next session, speakers provided global perspective on the future of the O&P industry in a worldwide marketplace. Attendees then broke out into small discussion groups where specific challenges were discussed with a focus on how the O&P industry can prepare for what the future may hold. The group reconvened to share the insight developed during the breakout sessions and then began a second breakout session that focused on various opportunities that the future may hold for the O&P industry. The first day ended with the group coming back together to provide reports on each of their breakout sessions.
The second day of the conference began with a thorough review of the issues that were identified as crucial to the future of O&P during the breakout sessions from the previous day. The program continued with presentations and discussion regarding the future reimbursement landscape for O&P, as well as presentations that focused on perspective from the insurance industry, the role of the FDA in O&P, and the potential for alternate delivery models for O&P services in the future.
Charles Dankmeyer, Jr., CPO, AOPA President, ended the conference with a recap of the many accomplishments that had occurred in just one and a half days and encouraged the O&P leaders in attendance to make sure that the discussion did not end after the meeting; that the meeting was just the beginning of many more discussions and efforts to ensure the success of the O&P industry for many years to come.
To learn more about the inaugural AOPA Leadership Conference, read the preview article that was published in the January 2015 O&P Almanac and look for the full conference recap that will be published the subsequent issues of the O&P Almanac.