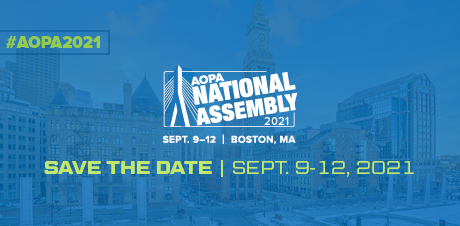 The 2021 National Assembly is scheduled to take place September 9-12, 2021 in Boston, MA. Save the Date!
2021 National Assembly Exhibit Sales: We have decided to postpone the opening until January 2021. Situations are changing daily, waiting will allow us to make a more informed decision about what the 2021 Exhibit Hall will look like and the available options for you. Questions? Contact Kelly O'Neill at kelly.oneill@AOPAnet.org.
2021 Call for Papers: The Call for Papers will be announced early January 2021.