Quick Links

Purchase Exhibitor Insurance for Just $94

Exhibitor Newsletters – Be in the Know before you arrive in Vancouver.
Newsletter #1
Newsletter #2
Newsletter #3
Newsletter #4
Newsletter #5
Hotel Accommodations
AOPA has room blocks at five nearby hotels. Prices are quoted in Canadian dollars (CAD). Check the exchange rate. 
Pinnacle Harbourfront Hotel, 1133 West Hastings Street, Vancouver, BC, V6E 4R5, $251 CAD
Marriott Pinnacle Downtown, 1128 West Hastings Street, Vancouver, BC, V6E 4R5, $263.00 CAD SOLD OUT
Coast Coal Harbour Hotel, 1180 Hastings Street West, Vancouver, BC V6E 4R5, $270 CAD
Hyatt Regency Vancouver, 655 Burrard St, Vancouver, BC V6C 2R7, $293 CAD
Pan Pacific, 300 – 999 Canada Place, Vancouver, BC V6C 3B5, $399 CAD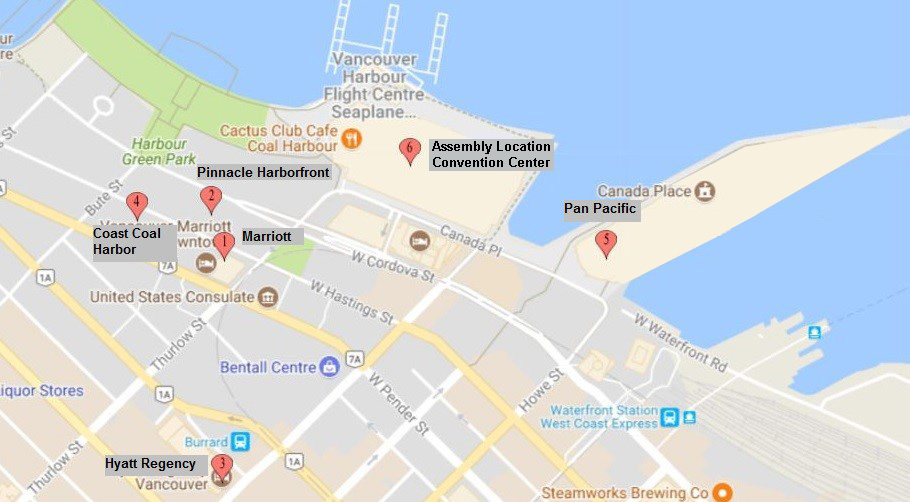 *Important* Please note ALL hotel reservations should be made directly with the hotels. AOPA is not utilizing any type of Hotel Convention Housing Service. Please disregard any companies that may try to contact you via telephone/fax/email. These housing companies (Example: Trade Show Planners LLC) are not authorized by the American Orthotic & Prosthetic Association (AOPA) and are in no way affiliated with AOPA or the hotels listed above.
If you should decide to work with these unaffiliated companies, please understand you do so at your own risk.  We will not be able to assist you in any way if problems should arise with your hotel reservation.
Set-up Hours
Tuesday, Sept 25th 10:00 AM – 6:00 PM
Wednesday, Sept 26th 8:00 AM – 3:00 PM
All set-up personnel must wear a set-up badge, which will be available at the registration desk. For questions regarding move-in, please contact Show Management at (571) 431-0876, ext. 254.
Permission for early move-in, must be approved by Show Management. All construction must be completed and aisles cleared by 3:30 PM, Wednesday, September 26th.
Exhibit Hall Hours
Wednesday, September 26th 5:30 – 7:30 PM Welcome Reception in Exhibit Hall
Thursday, September 27th 8:30 AM – 5:00 PM
Friday, September 28th 8:30 AM – 6:30 PM  (5:00 – 6:30 PM Exhibitor Sponsored Happy Hour in the Exhibit Hall)
Saturday, September 29th 8:30 AM – Noon
Dismantling & Removal of Exhibits
Saturday, September 29th  Noon – 11:00 PM
*Hours may be subject to change*
For questions, contact Kelly O'Neill at kelly.oneill@aopanet.org or 571/431-0852.