Quick Links

The 2017 AOPA World Congress will be held at the Mandalay Bay Resort, 3950 Las Vegas Blvd South, Las Vegas, Nevada, 89119. The exhibit hall, general sessions and general education will be held at the Mandalay Bay Resort South Convention Center Level 2.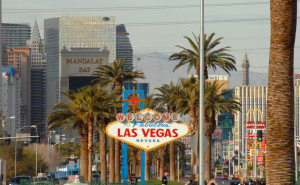 Getting to Las Vegas is easy.  Over 900 flights from 130 US and International markets arrive at McCarran International airport each day.  McCarran International Airport is less than five miles from the Mandalay Bay.

Hotel Accommodations
The 2017 AOPA World Congress will be held at the Mandalay Bay Resort, 3950 Las Vegas Blvd South, Las Vegas, Nevada, 89119. Attendees are responsible for making their own hotel reservations..
You can make your reservation in one of two ways:
Online – use our convenient online reservation form. Telephone – Call 877-632-9001  and mention AOPA to book your room within the World Congress Block.
ALPS Shuttle Service

If you have been to Las Vegas before, you know that it involves a lot of walking! This year, ALPS will be providing free shuttle service between the Convention Center and the Mandalay Bay hotel to make your visit more comfortable. Just meet the shuttle down in the Lower Level Tour Lobby/Beach Access Area or the Convention Center Entrance/Shark Reef for a ride.
Scooters and Wheelchairs


You can reserve a scooter or wheelchair in advance. Call Scooterbug at 1-800-877-6106. Prices: Scooter $50 a day, Wheelchairs $20 a day.
Travel Discounts
oneworld® is pleased to be the Official Airline Alliance for the 2017 World Congress.
Visit www.oneworld.com/events, select 'Attendee' and enter event code OW76A17 to access our online booking tool.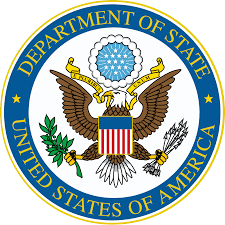 Visa applicants are advised to apply as soon as they decide to travel to the United States. Helpful links from the United States Department of State:
Do I need a visa to travel to the United States?
Visa Appointment and Processing Times
The Visa Waiver Program
The Visa Waiver Program (VWP) enables nationals of 38 participating countries to travel to the United States for tourism or business (visitor [B] visa purposes only) for stays of 90 days or less without obtaining a visa. Nationals of VWP countries must meet eligibility requirements to travel without a visa on VWP, and therefore, some travelers from VWP countries are not eligible to use the program. VWP travelers are required to have a valid authorization through the Electronic System for Travel Authorization (ESTA) prior to travel, are screened at the port of entry into the United States, and are enrolled in the Department of Homeland Security's US-VISIT program. Citizens or nationals of the following countries* are currently eligible to travel to the United States under the VWP, unless citizens of one of these countries are also a national of Iraq, Iran, Syria, or Sudan.

Andorra, Australia, Austria, Belgium, Brunei, Chile, Czech Republic, Denmark, Estonia, Finland, France, Germany, Greece, Hungary, Iceland, Ireland, Italy, Japan, Latvia, Liechtenstein, Lithuania, Luxembourg, Malta, Monaco, New Zealand, Norway, Portugal, San Marino, Singapore, Slovakia, Slovenia, South Korea, Spain, Sweden, Switzerland, Taiwan , The Netherlands, United Kingdom.

Request a Letter of Invitation
International travelers needing a letter of invitation should contact Ryan Gleeson at rgleeson@AOPAnet.org.  Please be sure to include your full name, company, business address and any credentials that should be included in the letter.
---
About Las Vegas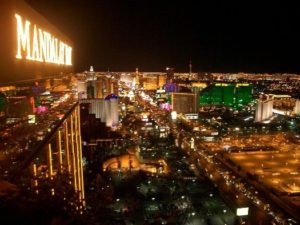 Whether you're a high roller or a low-key lounger, Las Vegas has something for everyone.  Sample fare from top chefs and cornucopia buffets, try your luck at one of the world's premier casinos, or take in a spectacular show. Once you've had enough of the razzle-dazzle, take a leisurely visit with nature at the Mandalay Bay Shark Reef or hike Red Rock Canyon.
There are many reasons why Las Vegas commands the title as "The Entertainment Capital of the World." Some of the world's most exciting and versatile entertainers have performed here including Celine Dion, Elton John, Jerry Seinfeld, Jay Leno, and popular touring Broadway shows stop at the Smith Center for the Performing Arts in downtown Las Vegas.  Other entertainment options include A-list headliners like Brad Garrett, Ray Romano, and Kevin James who regularly bring their shows to Las Vegas showrooms and arenas; as well as several resident Cirque du Soleil productions, comedy clubs, magicians, classic Las Vegas showgirl revues, and more. To learn more about Vegas attractions, shopping, nightlife, pools, spas, restaurants, golf, recreation, casinos, events, shows or just good old fashion people watching visit www.lasvegas.com.
About the Mandalay Bay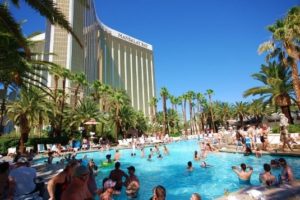 At the Mandalay Bay Resort and Casino, excess is the norm. Las Vegas visitors can listen to some of music's greatest artists, spot some of the world's most dangerous predators and bodysurf some of the city's largest waves without ever leaving the 120-acre property.
The accommodations are modern and up to date, offering wireless internet, iHome clock radios and large plasma-screen TVs in every room. Delano Las Vegas, the adjacent all-suite hotel, complements the already impressive property, offering a boutique experience for guests looking for a more cosmopolitan atmosphere.
Hip and high-end, Mandalay Bay is a bustling paradise, accented by fountains, sculptures, marble and flora. Surrounding it is dining at its finest, from the proletariat Red Square and the elegant Aureole by Charlie Palmer to Michael Mina's stylish Stripsteak. Lupo by Wolfgang Puck is an Italian restaurant featuring a few twists on some old classics. Rick Moonen's RM seafood provides patrons with everything from gourmet- and café-style seafood eateries to a sushi/raw bar. His steampunk-inspired venture, RX Boiler Room, showcases classic comfort food in small and large plate portions on the restaurant's second floor. Other fine dining options are Fleur by Hubert Keller and the creative Japanese cuisine of Akira Black at Kumi Japanese Restaurant and Bar. Entertainment also abounds at the resort. "Michael Jackson ONE," created by the estate of Michael Jackson and Cirque du Soleil, fuses together the music of Jackson and his hope for unity and a better world through a plot that follows four misfits on a state-of-the-art visual and audio adventure.
Whether you're a fan of rock, reggae, rap, rockabilly, jazz or blues, the House of Blues has it all. The venue not only books musical legends, but also puts on a soulful Sunday Gospel Brunch, featuring great live music and a traditional Southern food buffet. The Mandalay Bay Events Center meanwhile, provides a venue for sporting events and arena-sized musical acts. Read more information online.
---
General U.S. Guidelines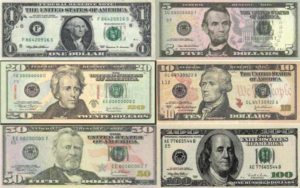 Spending While You're Here
You can exchange foreign currencies at most large banks, tourist centers and at agencies in the terminals of major airports. But you'll receive the best rate using an automated teller machine (ATM). They're everywhere, though some banking networks charge fees of $1-2 per transaction.
Another way to optimize the exchange rate is to make purchases with a credit card. Major credit cards are widely accepted across the U.S. In fact, some businesses, such as hotels, require a credit card to confirm a reservation. Keep some U.S. currency or traveler's checks on hand for use in an emergency.
Taxes
The U.S. doesn't have a national sales tax comparable to the value-added tax (VAT) or goods and services tax (GST) found in other countries. Instead, individual U.S. states and localities (counties and cities) set their own rates of taxation. The sales tax you may be required to pay depends on where you are and even what you're buying. Sales tax on food items, for example, may be lower than for merchandise; tax on gas is often higher.
Keep in mind that sales tax is never included on a price tag. Since sales tax isn't collected on a national level, you can't obtain a refund on departure. However, many states don't charge tax on items shipped out of state. Inquire at the store, especially if you are making a large purchase.
Health & Medical
Medical facilities can be found in all hospitals as well as urgent care clinics. Hospital emergency rooms and urgent care clinics do not require appointments, though in non-life threatening situations, it may be helpful to call ahead. Health care is superior in the U.S. but it can be very expensive because there is no universal health care. Traveler's health insurance should be purchased prior to travel to the U.S. in case of an emergency. Prescription medication should be brought from home and carried in its original, labeled container. The nationwide emergency phone number for police, fire, and ambulance is 911.
Social Customs
U.S. culture is as diverse as the geography, and what's considered good manners often changes from region to region. Americans are generally an easygoing people – famously open and welcoming – but observing a few customs will guarantee a successful trip. Dress is generally casual; business dress is sometimes required in high-end restaurants and private clubs, but less frequently than even a few years ago. Nevertheless, if you are attending a special event, it's probably best to risk being overdressed, rather than too casual.
Tipping is customary for service industry professionals: waiters, bartenders, taxi drivers, hairdressers, hotel porters, and chambermaids, coatroom attendants, parking valets and airport skycaps. Tips are an important part of their income. The tipping custom in the U.S. is 15 percent of the total bill – 20 percent or more for exceptional service. Tip coatroom attendants $1 per garment; parking valets $1-2 when you drop off your car and another $1-2 when you pick it up; hotel porters and airport skycaps at least $1 per bag; and hotel chambermaids' $3-5 a day.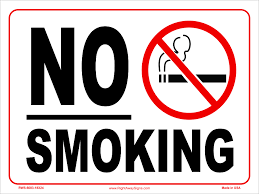 Look before you light up. Smoking is much less accepted in the U.S. than it once was. In fact, it's restricted in many establishments.  Smoking is prohibited in guest rooms, restaurants, lounges, meeting rooms and most public spaces. Check for no-smoking signs and never light up unless you're sure it's allowed. It's polite to ask for permission if you're in the company of others.
Every culture has some quirky do's and don'ts. Here are a few of America's: Observe queues and don't cut in line. Be aware that Americans are fanatics about showering and hygiene. Keep your voice down when talking on a mobile phone in public. And only use your phone in appropriate places where others will not be disturbed by being a party to your conversation.
Communications
Internet service in the U.S. is widespread and fast. Wireless Internet is available in hotel and guest rooms at the Mandalay Bay. Make calls from any public phone using a pre-paid phone card or phone credit card. Pre-paid phone cards generally offer the best rate, especially for international calls. Pick one up at airports, hotels, bus stations, grocery and convenience stores. Purchasing or renting a mobile phone that operates on a U.S. network is another, pricier option.
Transportation and Driving
The U.S.'s transportation system is well maintained and extensive. Go by airplane, bus, train or car. But avoid hitchhiking anywhere in the U.S.; it's not efficient or safe. Given the country's size, flying is the fastest way to get from one place to another. Most interstate flights connect through main airports in large cities known as "hubs." Even if you're flying to a destination within the same state, you may have a more or less lengthy stopover in a hub.
The U.S. is a car culture and driving is often the most convenient and economical way to travel. From a practical standpoint, public transportation within cities isn't highly efficient except in large metropolitan areas. So even if you're jumping between cities by plane, you may want to rent a car on arrival and drive. You'll find car rental outlets at all major airports. It's prudent to take the LDW/CDW (loss/collision damage waiver) insurance on your rental.  The U.S. interstate highway system is excellent and well maintained. Gas prices are lower than most international visitors are accustomed to paying. Gas stations are plentiful along highways and in cities, and can usually provide maps and road directions, too. Speed limits vary on American highways, but are typically 55-75 miles per hour. Speeds are posted and often enforced by highway patrol officers. Driving under the influence of alcohol or non-prescription drugs is a serious offense in the U.S. and can result in inconvenience, expenses, and possibly criminal charges.
Measurements and Voltage
The U.S. measurement system is based on the English system of measurement and is referred to as U.S. Customary Units. The metric system is used in some specific fields of work, including the medical field, but U.S. Customary Units remain the standard for most Americans.  Length in the U.S. is based on four customary measurements; inch, foot, yard and mile:
U.S. Divisions Metric
1 inch 25.4 mm
1 foot 12 inches 0.3048 m
1 yard 3 feet 0.9144 m
1 mile 5,280 feet 1.609344 km
Americans generally measure rooms and buildings in square feet; carpets in square yards and territory in square miles. Liquid measure in the U.S. is generally based on number of fluid ounces. Beverages are usually measured in fluid ounces with single servings ranging between 8 and 16 ounces. Milk is usually sold in cups or half pints, pints, quarts and gallons. Water volume for bathtubs, ponds, swimming pools, etc., is usually described in gallons.
U.S. Divisions Metric
1 fluid ounce (oz) 29.573 53 mL
1 liquid pint 16 fl oz 473.176 5 mL
1 liquid quart 2 pt/32 fl oz 946.352 9 mL
1 gallon 4 qt /128 fl oz 3.785 412 L
Weight in the U.S. is measured most commonly in ounces and pounds.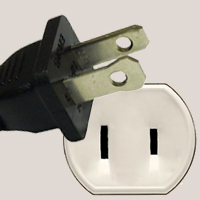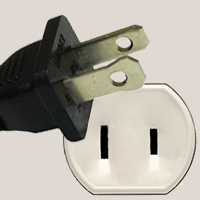 U.S. Divisions Metric
1 ounce (oz) 28.349 523 125 g
1 pound 16 oz 473.176 5 mL
Produce and other fresh foods, such as meat are usually sold by pounds.
Voltage
Don't forget to pack an AC and plug adapter – the U.S. uses 110 to 120 volts and electrical plugs with two flat parallel blades.