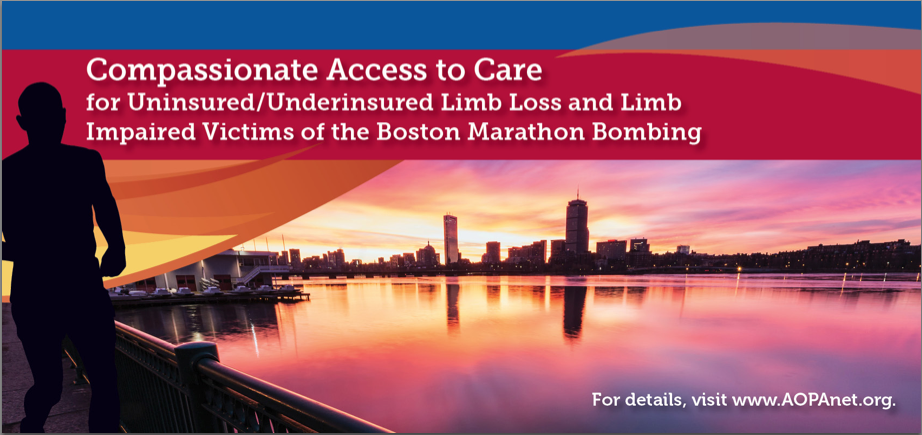 Orthotic and Prosthetic Companies Band Together to Provide Compassionate Assistance to Uninsured and Under-Insured Terror Attack Victims;  Problems Seen With "Holes," Often Severe Limits in Private Health Insurance
WASHINGTON, D.C.
–
April 30, 2013
– Uninsured and under-insured victims of the Boston Marathon terror attack who are undergoing amputations will be provided major assistance with the cost of their initial prostheses and related care as a result of the creation by the American Orthotic & Prosthetic Association (AOPA) of the "
Coalition to Walk and Run Again
."
In launching the initiative, AOPA officials said that a number of the Boston terror victims now requiring artificial limbs will experience the financial nightmare that befalls thousands of Americans facing amputations:  often extremely severe limits in health insurance coverage, such as a cap of $1,000 per prostheses or coverage for only one artificial limb over the course of an individual's lifetime. In practice, the care and cost of an initial prosthetic device could add up to $30,000 or more and often must be replaced every five-seven years.
AOPA Executive Director Tom Fise said: "Our goal here as the makers of artificial limbs is to extend compassionate aid to the victims of the Boston terror attacks.  We extend our prayers and best wishes to all persons injured as a result of the bombings for a full and complete recovery to health, mobility and restored function, employment, and family life.  We want to ensure that, in the midst of this horrific tragedy, these individuals are not further traumatized by the harsh and unreasonable limits that are present in all too many health insurance policies today in the United States.  As an industry, we would not want to see these people victimized twice."
Kendra Calhoun, president, Amputee Coalition, said: "The terrorist attack at the Boston Marathon was truly an extraordinarily sad event. We commend all the organizations, like the AOPA alliance, that have come forward with help and support for the victims and their families.  The graphic images and accounts from the bombing have propelled the issue of amputation into the national spotlight. As tragic and violent as the circumstances of these injuries were, the 14 people who lost arms, legs, hands or feet as a result of the attack represent a fraction of the 500 people who undergo amputations in the United States on any given day. The world becomes a very different place when you lose a limb, but the beautiful thing is that prosthetic devices can help people regain an amazing amount of function—and there should be no reason why every American amputee shouldn't be fully functional, except that health insurance isn't willing to pay for it."
AOPA Vice President Charles Dankmeyer, founder of Dankmeyer, Inc., an orthotics and prosthetics firm in Linthicum, MD, said:  "All Americans are experiencing the shock of the Boston Marathon bombing, coupled with the desire to assist the victims of this senseless violence and mayhem.  As the certified prosthetists and orthotists who practice in patient care facilities and the orthotic and prosthetic manufacturers who develop the technology and create the components for artificial limbs and customized bracing that restore mobility, we are in a unique position to offer needed assistance.  We want to do what whatever we can to help these fellow Americans as they start this challenging journey."
Currently, there are an estimated 1.9 million people living with limb loss in the United States. Annually, the immediate health care costs for the amputation of a limb – not including prosthetic costs or rehabilitation costs – is estimated to total more than $8.3 billion. A recent study by the Department of Defense and the Department of Veterans Affairs estimated five-year prosthetic costs to be as high as $450,000 for a person with multiple limb amputations, $230,000 for a person with a unilateral lower-limb amputation and $117,000 for a person with a unilateral upper-limb amputation.  Studies estimate that the lifetime health care costs for a person with limb loss are more than $500,000 per person.
ABOUT THE COALITION TO WALK & RUN AGAIN
All victims who required an amputation as a result of the injuries they sustained from the Boston Marathon bombing have received high quality trauma and surgical treatment by first responders and the incomparable clinical personnel  residing in Massachusetts' hospitals. In some cases, there is a need for subsequent specialized care to help these patients in their recovery.  Some of the victims have the insurance or other financial means to afford the cost of replacement artificial limbs, customized bracing and other mobility aids, and the patient care needed to empower their use.  But it appears that many of the victims, some from Massachusetts and others from diverse locations outside the metro area, may not have any health insurance or may have health insurance plans that will not assure access to the needed limbs and mobility assistive devices.
The new 
Coalition to Run and Walk Again
 is committed to assuring the availability of appropriate patient care as well as artificial limbs and other mobility devices on a compassionate access basis for those Boston Marathon bombing victims who otherwise may not have access to these devices and patient care.
The Coalition will seek to use its national network to facilitate care for any Boston Marathon bombing victim for their prosthetic and orthotic needs (excluding physician and hospital costs), with the sole prerequisite being receipt of a letter from the victim's physician indicating that the patient was injured in the Marathon bombing, describing the specific needs of the patient, geographic information, and attesting that the patient's insurance coverage is insufficient to meet the costs of the prosthetic/orthotic care the patient needs.
The American Orthotic & Prosthetic Association (AOPA) is a national trade association committed to providing high quality, unprecedented business services and products to orthotic & prosthetic (O&P) professionals.  Founded in 1917, AOPA membership consists of more than 2,000 O&P patient care facilities and suppliers that manufacture, distribute, design, fabricate, fit, and supervise the use of orthoses (orthopedic braces) and prostheses (artificial limbs). For more information, visit 
http://aopanet.org
. In regard to this new coalition to assist Boston victims, AOPA is working together with the Amputee Coalition, the American Association of Orthotists and Prosthetists, and the National Association for the Advancement of Orthotics and Prosthetics.
EDITOR'S NOTE
: A streaming audio replay of this news event will be available on the AOPA Web site by 5 p.m. EDT on April 30, 2013 at 
http://aopanet.org
ALEXANDRIA, VA, April 30, 2013 – The American Orthotic and Prosthetic Association (AOPA) is leading a coalition to provide access to care for uninsured/underinsured amputee victims of the Boston Marathon Bombing to assure that all victims "will walk and run again".
Leaders of manufacturer and patient care facility members of AOPA and coalition partners have pledged to connect these amputees and those with related mobility impairment with the needed specialized care for those who may not have any health insurance or the means to assure access to the needed care and artificial limbs, customized bracing and mobility assistive devices. The prosthetic and orthotic care and componentry will be provided at no cost to those patients.