NOTICE OF MERGER
As of September 30, 2022, the Center for Orthotic and Prosthetic Learning and Outcomes/Evidence-Based Practice (COPL) has merged with the Orthotic and Prosthetic Education and Research Foundation (OPERF) to form The Orthotic and Prosthetic Foundation for Education and Research (The Foundation). The Foundation will continue the OPERF and COPL award programs that are currently in place. Read the full announcement regarding the OPERF/COPL merger.
Please visit The Foundation's website for more information on award opportunities.
2022 COPL Pilot Grant Recipients
Bretta Fylstra, PhD, Evaluating prosthesis provision patterns and clinical outcomes across the United States with respect to level of community distress for individuals with lower limb amputation
Sarah Chang, PhD, Integrating outcome measure data collection with the National Limb Loss and Preservation Registry
Bretta Fylstra, PhD, Rates of lower limb amputation based on healthcare spending and provision of diabetic footwear among Medicare beneficiaries with diabetic foot ulcer
Jennifer Richards, CPO, MA(Ed), Treatment outcomes following orthotic interventions for pectus carinatum
Please see The Foundation's website for information on awards funded following the COPL/OPERF merger in 2022.
2021 COPL Pilot Grant Recipients

The Board of Directors of the American Orthotic and Prosthetic Association (AOPA) and the Center for Orthotic and Prosthetic Learning and Outcomes/Evidence-Based Practice (COPL) has selected its 2021 COPL Pilot Grant recipients. Congratulations to:
Joshua Burns, PhD, Feasibility of smart ankle-foot orthoses with embedded wearable sensors to measure real-world function and compliance in childhood
Cole Cheney, MD, Sciatic Block in Contralateral Limb for Treatment of Refractory Phantom and Residual Limb Pain; a Triple-Blind Randomized Crossover Controlled Trial
John Chomack, MS, Advanced Wearable Fitness Tracker for Individuals with Transtibial Amputation: A Feasibility Study Using the Oura Ring
Michael Dillon, PhD, Closing an evidence-practice gap: exploration of the barriers and facilitators influencing use of telehealth for orthotic/prosthetic services in the United States of America
Graci Finco, CPO-L, Wearable Sensors in Prosthetic Practice: Can Walking Symmetry Supplement Clinical Measures to Assess Fall Risk?
Szu-Ping Lee, PhD, Socioeconomical Disparities on Post-Amputation Outcomes in Individuals with Lower Limb Amputation
Edward Garrett Jr., MD, Investigating Mobility and Prosthetic Utilization Outcomes in Patients with Lower Limb Amputation and Vascular Comorbidities Under Physician-led Collaborative Care Model
Cody McDonald, PhD, Racial bias in orthotics and prosthetics
Taavy Miller, PhD, Do corrective scoliosis TLSOs fabricated using 3D scanning show a greater percentage of in-brace curve correction compared to TLSOs fabricated from a traditional casting method of image capture?
Andrew Sawers, PhD, Improving documentation of falls in people living with lower limb amputation: Reconstructing fall events with the Lower Limb Prosthesis User Fall Survey
Fanny Schultea, CPO-L, Controlled Intervention Study of Community-Based Rehabilitation for People with Amputation in the Houston, Texas Area
Shane Wurdeman, PhD, Care patterns and total cost of care associated with diabetic foot ulcer and lower limb amputation among Medicare beneficiaries: A 5-year cohort analysis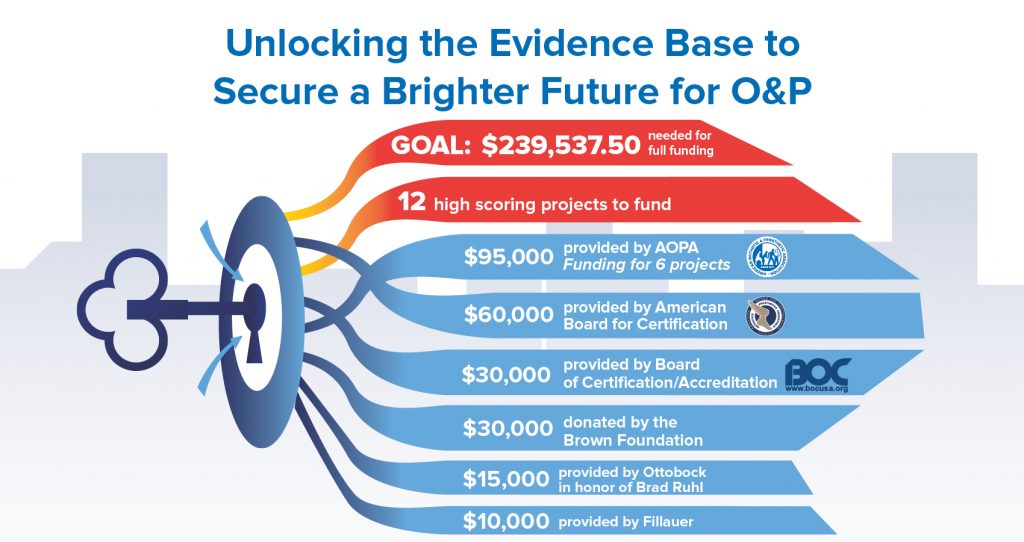 In order to fund the 12 projects, the COPL Board asked AOPA to pursue additional funding, equaling $239,537.50. AOPA allocated $95,000 for the 2021 COPL cycle and received key sponsorship dollars from the American Board for Certification (ABC), the Brown Foundation, and the Board of Certification (BOC).
"ABC is pleased to support the Center in its mission to promote research and education in O&P. We are especially hopeful that the evidence-based and patient-oriented research will lead to improved patient outcomes. The alignment of ABC's and the Center's missions and goals for the profession couldn't be clearer," said Anthony C. Ward, CPO, ABC President
"BOC is proud to be a key funder for the 2021 COPL Pilot Grant Program Cycle. We will sponsor a study titled, 'Racial Bias in Orthotics and Prosthetics,' which aligns with BOC's values and is important to our professional community," said Bradley "Brad" Watson, BOCO, BOCP, LPO, BOC Board Chair
What is the Center for O&P Learning (COPL)?
The general purpose of the Center is to promote research and education within the field of orthotics and prosthetics. Educational initiatives will focus on clinical education for professionals as well as external efforts to inform the general public and health care community on topics relating to orthotics and prosthetics, including as relevant to patient care.  Research objectives will include advancement of knowledge and technologies in orthotics and prosthetics, enhancement of evidence-based medicine research capabilities, and patient-oriented outcomes designed to ensure that the needs of patients are best served.
Resources for COPL Grant Applicants and Recipients
Inquiries should be sent directly to COPL@AOPAnet.org.
Board of Directors
Shane Wurdeman, (AOPA) Chair
Susan Kapp (AAOP)
Scott Williamson (At Large)
Don Shurr (At Large) 
Wayne Rosen (BOC)
TBD (NAAOP)
Christopher Wallace (ABC)
Sheryl Sachs (NCOPE)
Mary Richards (Amputee Coalition)
Previously Funded Studies:
2020 – 2021

Sarah R. Chang, PhD, "Develop Evidence-Based Clinical Practice Guidelines for Vacuum-Assisted Socket Suspension Systems"
Jonathan D. Day, "Non-invasive method for quantifying progress of healing after transtibial amputation: a pilot study"
Michael Dillon, PhD, "Describe the population receiving orthotic/prosthetic services using telehealth, and their experience and satisfaction with those services"
Erik Hansen, MD, "The Effect of Osteoarthritis Bracing on Community Involvement, A Pilot Study"
Natalie Harold, CPO, "Development of a Customizable Outcome Measures Electronic Toolkit (COMET)"
Rebecca M. Miro, PhD, CP, MBA, CRA, "Prosthetic, functional, and clinical outcomes among female amputees: A scoping project o include a systematic review and 10-year retrospective record review of female Veterans with limb loss"
More information on the grantees' projects available here.
2019
Leigh Clarke, B.PO, MPH, "Patient and payor perspective of the benefit of prosthetic interventions and services: informing measures for future health economic evaluations."
Reza Safari, PhD, "Activity, Mobility, Social Functioning, Mental Health and Quality of Life Outcomes in Limited Mobility Transfemoral and Knee Disarticulation Amputees Using Microprocessor-Controlled Knees or Non-Microprocessor Controlled Knees in the United Kingdom: A Cohort Study."
Jenny A. Kent, PhD, "Vacuum Assisted Suspension: The effect of residuum-socket interface integrity on perception and control in individuals with a transtibial amputation."
Christopher Hovorka, PhD, CPO, LPO, FAAOP, "Quality of life, satisfaction, gait and motion control outcomes of articulated passive dynamic, non-articulated passive dynamic and solid ankle foot orthoses in hemiparetic stroke survivors."
Geoff Balkman, BA, MS, CPO "Large-scale administration and calibration of a patient-reported item bank for assessing mobility of lower limb orthosis users"
2018
Balkman, Geoff, BA, MS, CPO, "Development of a Mobility Outcome Measure for People who use Lower Limb Orthoses"
John DesJardins, PhD, "The Quantification of Containment Conditions Used for Directed Growth Within Infant Cranial Remolding Orthoses: A Pilot Study"
Sun Hae Jang, M.Sc., CO, FAAOP, "Normative Values, Reliability, and Validity of the Global Visual Gait Assessment for Measuring Orthotic Biomechanical Outcomes for Use in Post-Stroke Patients"
Shannon Mathis, Ph.D. "Gait Analysis Using Video: Defining K-Level in Lower-Limb Prosthesis Users"
Shane Wurdeman, PhD, MSPO, CP, FAAOP, "Prospective Falls Analysis Among Lower Limb Prosthesis Users- Understanding the Role of Prostheses in Reducing Fall Risk"
Eric Weber, CPO, FAAOP, "Longitudinal Tracking of Stability Events and AFO Compliance Among Stroke Survivors During Sub-Acute and Chronic Phases of Recovery"
2017
Sarah Anderson, La Trobe University, "Comparison of quality of life in people with partial foot or transtibial amputation"
Brian Kaluf, BSE, CP, Ability Prosthetics and Orthotics, Inc., "Hydraulic and Microprocessor Controlled Ankle-Foot Prostheses for Limited Community Ambulators with Unilateral Transtibial Amputation: Pilot Study"
Sarah Chang, PhD, Northwestern University, "A pilot study to evaluate the effects of the hydraulic ankle-foot prostheses on standing and walking in K2-level ambulators"
Benjamin Padilla, MD, University of California San Francisco Benoiff Children's Hospital, "The Effects of a Custom Pectus Carintum Orthosis on Dosing Response and Quality of Life"
Eric Weber, CPO, FAAOP, Hanger Clinic – Department of Clinical and Scientific Affairs, "Mobility and Global Health among Users of Lower Limb Orthoses: The Establishment of a National Data Base"
Chris Hovorka, Ph.D., CPO, LPO, FAAOP, Georgia Institute of Technology, "Gait and Motion Control Benefits of Custom Molded Passive-Dynamic AFOs versus Custom Fit Carbon Composite AFOs in Persons with Neuromuscular Impairment"
Kenton Kaufman, PhD, Mayo Clinic, "Prevalence, correlates, and risk of prescription drug use and abuse in individuals with above knee amputations"
2016
Walter Lee Childers, PhD, MSPO, CP, Alabama State University, "Stumble recovery mechanisms utilized by people using different types of microprocessor knees"
Kenton Kaufman, PhD, PT, Mayo Clinic, "Risk factors and costs associated with secondary health conditions of individuals with above-knee amputations"
Staci Shearin, UT Southwestern, "Impact of Carbon Fibre AFOs on gait and resulting changes in quality of life across time in persons with PD"
Nicholas LeCursi, CO, Becker Orthopedic Appliance Company, "Relative influence of orthotic support features within an open frame AFO versus a total contact AFO on function, endurance, and activity level in patients with spastic equinovarus secondary to chronic stroke"
Ignacio Gaunaurd, PhD, MSPT, University of Miami, "Utilizing an innovative Timed-Up-and-Go test for fall risk detection in people with unilateral lower limb loss"
Sai Vikas Yalla, PhD, Rosalind Franklin University of Medicine and Science, "Activity Based Quality Life Assessment to Compare Prostheses with and without Microcontrollers in Transfemoral Amputees"
Shane Wurdeman, PhD, MSPO, CP, FAAOP, Hanger Clinic – Department of Clinical and Scientific Affairs, "Improved mobility with lower limb prostheses: the establishment of a national multi-site outcomes database"
2015
Fan Gao, PhD, UT Southwestern Medical Center at Dallas. "Does Vacuum Assisted Socket System Improve Knee Proprioception and Dynamic Balance in Transtibial Amputees?"
Jason Highsmith, PT, PhD, CP, FAAOP, University of South Florida, "Concurrent Validation of the Continuous Scale Physical Functional Performance Test (CS PFP-10) in Transfemoral Amputees"
Jason Kahle, MSMS, CPO, FAAOP, The University of South Florida, School of PT and Rehab. "Transfemoral interfaces with vacuum assisted suspension comparison of biomechanics using the CAREn: Ischial containment versus brimless"