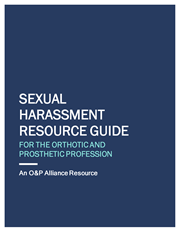 O&P Alliance Sexual Misconduct, Harassment, and Discrimination Resource Guide
The Orthotic and Prosthetic Alliance (O&P Alliance) is a coalition of the leading national organizations representing the orthotic and prosthetic profession. AOPA is one of the five groups that comprise the O&P Alliance the others include: the American Academy of Orthotists and Prosthetists (AAOP); the American Board for Certification in Orthotics, Prosthetics & Pedorthics (ABC); the Board of Certification/Accreditation (BOC); and the National Association for the Advancement of Orthotics and Prosthetics (NAAOP). Together, the O&P Alliance represents the scientific, research, professional, business, and quality improvement aspects of the O&P profession. The O&P Alliance advocates for state and federal policies that improve the practice of O&P and the quality of services provided to patients who require these healthcare services.
The O&P Alliance is united in condemnation of sexual misconduct, harassment, and discrimination, and has issued an open letter affirming this position. To further support the profession and the patients we serve, the Alliance has developed the following resource list, which includes relevant materials in various formats along with topic summaries to help guide website visitors.*
Alliance Open Letter
Policies/Codes of Conduct/Codes of Ethics
Educational Webinars/Live Presentations
Power Point Presentation/Educational Materials
Articles
Websites
*These resources are provided as general information and are not intended as legal advice related to individual situations. For this reason, we advise you to consult with your own attorney and/or other adviser regarding specific circumstances and concerns.