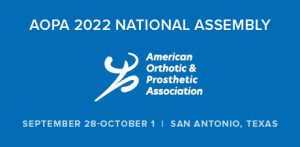 The 105th AOPA National Assembly will be held in San Antonio, Texas on September 28- October 1, 2022. In addition to the in-person Assembly, virtual elements are being planned. There will be general sessions, as well as concurrent breakout tracks, an Expo, patient demonstrations, and workshops.
Contests, Showcases and More
Participate to Share ~ Participate to Win!
Tech Contest
A new contest will be featured in the technical education track.  Technicians, and fabricating practitioners are being invited to share a 3-minute video on a fabrication tip or trick.  The audience will select the winner(s) and cash prizes of $500, $250, and $100 will be awarded.  Indicate your interest here by June 30.  Videos are due by July 15. Videos can focus on a tool, fabrication technique, design or other technical-related problem-solving topics.
For further information, contact AOPA Staff at Assembly@AOPAnet.org.
O&P Digital Care Showcase
Don't miss the opportunity to showcase your innovation during the New O&P Digital O&P Care Showcase.
The Digital O&P Care Education Workgroup was created because AOPA found that the process of digital transformation in our profession has progressed to a point where this topic deserves a dedicated track during the Assembly.  As part of the Digital O&P Care Education Track, we are holding a Digital O&P Showcase for Exhibitors who participate in this space.
What is it?
On Saturday, October 1, the Workgroup will be hosting a Digital O&P Showcase where Exhibitor participants who RSVP will each have the opportunity to showcase their digital offering by working from the same O&P Patient Case information which will be provided by the workgroup.
Depending on how you participate in the digital space, you could showcase how your service captures the digital image, the 3D printed product or perhaps how your service manages electronic medical records. However, you proceed, attendees will want to know how your software or service would interact with the patient presented. So, you will need to make sure this is the focus.
How will it work?
The Digital O&P Showcase will be a hands-on event where attendees learn about computer-based 3D design software tools to create the desired outcome from O&P software manufacturers.
Utilizing the provided prosthetic and orthotic patient case (the patient file, 3D scan, and positive model), your company will present a fabricated mold, device, 3D print, patient record, etc.
Other information:
In order to participate, you must RSVP no later than June 30.
You will receive the patient file and scan mid-August.
The positive model will be available onsite for scanning.
The showcase will take place on Saturday, October 1 at a time to be determined (after the exhibit hall closes).
AOPA will provide a table, two chairs, a sign and electricity for each participating company.
You will be responsible for any equipment needed, such as a laptop, monitor, or other display materials.
There is no cost to participate.
To participate, please RSVP here.  For further information or questions, contact AOPA Staff at Assembly@AOPAnet.org.
The 2022 Call for Presentations is closed. See the timeline below for more on the next steps.
TIMELINE
| | |
| --- | --- |
| January 21 | Call for Papers Announcement |
| April 15 | Call for Papers Submission Deadline |
| April 29 | Paper Grading and Program Organized |
| May 6 | Confirmation Letters to Presenters |
| May 16 | Presenter Webpage available |
| May 20 | Program on Website |
| June 1 | Program Released; General Registration Open |